Greetings community,
INTRODUCTION
We all know that the energy humans use today mostly uses fossil fuels or nonrenewable energy, whereas the presence of fossil fuels is very limited in the world. Moreover, the use of fossil fuels also affects the condition of our ecosystem, and has adverse consequences for human life, for example the greenhouse effect caused by the use of fossil fuels. This condition will be very worrying for us and our environment. Therefore, alternative energy such as renewable energy is needed to replace fossil fuels.
Renewable energy is energy that comes from nature and can continue to be produced without waiting for millions of years like fossil-based energy. Useable natural resources from the sun, geothermal, wind, hydropower and various forms of biomass. The energy source can not be exhausted and can be kept updated.
The concept and implementation of renewable energy has long been heard, however, there is a definite problem. Even if renewable energy sources are to generate energy on the same scale as fossil fuels, today's energy distribution is highly unsafe, expensive, inefficient and dependent on large companies that have the interest to delay and even stop the ongoing development in renewable sectors energy.
To overcome this, Let me introduce you the Peer 2 peer Energy Protocol (P2PEP), which aims to connect renewable energy producers with those who need them, facilitate the upgrading of renewable energy sources in the future by reducing and even eliminating barriers to clean renewable energy provision. electricity to consumers. P2PEP is a decentralized peer 2 protocol built on the Ethereum blockchain which has its backend code running on a decentralized peer 2 network, allowing anyone to use, exchange and exchange renewable energy anywhere at any time.
P2PEP Platform Features
Latest technology
P2PEP platform using the latest technology For the convenience of its users. Using the new Ethereum ERC223 protocol, there is no need for blockchain knowledge to get around. Payment can be made to iohnsmith.eth "not a complicated address like '0x4cbe58c50480 ....
Easy Use
To use P2PEP all you need is a smartphone and its app. This allows new entrants to quickly find their way of buying and selling clean energy. The exchange of energy has never been easier, enabling the mass market to switch to clean energy, without the need to install complicated energy systems
The Future of Clean Energy Trade
The goal is to bring convenience, lower costs and innovation to exchange energy markets. With the P2PEP platform, polluting oil and monopolist coalitions, it is inevitable and thereby enables a move toward clean energy.
Secure Integration
P2PEP uses Standard Electronic Confirmation Match (ECM) which is the standard set for energy trading. eCM helps reduce operational risk, costs and delays while processing confirmations.
Practical
The P2PEP platform is meant to connect businesses with their customers, thus designed to maintain effective inter-business and customer relationships. The nature of P2PEP brings market reliability and stability.
P2PMeets
P2PEP Trade Blockchain is peer-to-peer, combining both REMIT Regulations and blockchain protocols, providing security and transparency. Transactions are recorded as they occur and are distributed over the network.
What is the meaning of PEP CASH?
PEP CASH is the backbone of the P2PEP ecosystem, it is a private blockchain dedicated to facilitating the P2PEP platform and will also serve as free, fast, and secure when handling other types of electronic cash transactions.
The PEP CAS will be built taking into account the security of the community. The goal is to provide the enhanced level of security we have been looking for over the years that allows us to feel at ease when it comes to the privacy of our children's assets and the future. The PEP CAS will be built with multiple layers of privacy features that are cryptographically proven that will allow anonymity level to be improved.
PEP CASH is an advanced solution when it comes to monetary transactions in both crypto and fiat currencies. Introducing fast conversions and 0% fees both when converting from fiat to PEP CASH and from crypto currency to PEP CASH on our future P2PEP exchange platform. In addition, there is a 096 fee when buying or selling energy with PEP CASH.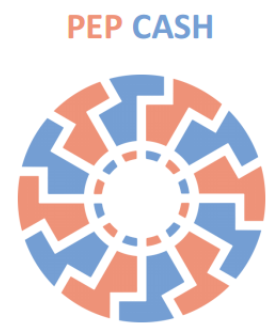 How to use PEP token?
Start using the P2PEP energy trading platform and start buying and selling clean energy in an easy way like never before! It's as easy as ordering a Uber trip or an Airbnb apartment. All you have to do is download DApp and start a renewable energy trade. For large-scale renewable energy producers, this is very exciting because there are many users on the network who are tired of the environmentally friendly energy they are forced to use today and want someone to sell them green energy for a decent price. Companies simply sign up for platforms, set their prices and start selling energy to customers. In the future, the company will strive to support and work with wireless-energy startup.
Therefore, let us support the use of renewable energy for the future of our children better by using clean energy, one of them by utilizing this P2PEP platform .....
For more research on P2pep social media at this time, please visit some of the important sites below for the following References:
The bitcointalk name :Icaica22
Profile Link :https://bitcointalk.org/index.php?action=profile;u=1546717
ETH Address :0x8d51bce79f5023617C1B55653d1838a5cf75Bd86